10:38 AM 1/22/2021 – New COVID-19 Variants Are Different – What that Means for Us

Michael Novakhov's favorite articles on 
Inoreader
Not only do they spread faster than existing strains, it's possible that vaccines against them might not work as well
Many allies have especially welcomed his decision to re-join Paris climate agreement #bideninauguration
Lindsey Graham is a lawyer — in addition to being the senior senator from South Carolina. Which means he should know way better than what he is doing in advance of former President Donald Trump's Senate impeachment trial.

 image/jpeg 
201030173830-13d-lindsey-graham-play-button-hp-video.jpg
• Seven Senate Democrats request ethics probe into Cruz and Hawley over Capitol riot • Florida man accused of being in Capitol riot was arrested at the inauguration

 image/jpeg 
210112120331-02-chuck-schumer-0106-hp-video.jpg
Biden Expands Food Stamps, "Eases Burden On Working People" As Stimulus Battle Brews
The Biden Administration's flurry of no fewer than 50 executive orders, executive actions and legislative action-items continued apace on Friday as the Administration turned its attention to combating economic and "racial" inequality, following Thursday's COVID focus.
The administration appears to be pivoting on from Thursday's theme – combating the COVID crisis – to Friday's theme (as previewed yesterday by the Hill a day ago)  which is focused entirely on "economic/racial" inequality.
First thing's first, Biden is signing two executive orders Thursday aimed at speeding pandemic stimulus checks to families who need it most, while increasing food aid for children who normally rely on school meals as a main source of nutrition.
Biden, who has proposed a $1.9 trillion stimulus package (at least the third since the start of this whole debacle, if one counts the measure passed last fall by Trump and his team), is using the two orders to try to ease the financial burden on Americans while Congress continues to battle over the next stimulus package, which is already seeing some (not-unexpected) pushback from Republicans like Mitt Romney who once lambasted Trump for his utter unwillingness to work with the other side (even though they once would have done the same.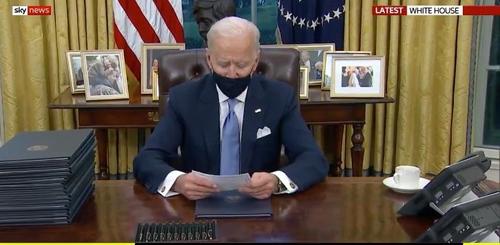 Here's more on the package from Reuters:
Biden, who has proposed a $1.9 trillion stimulus package, is using the two orders to try to ease the burden on people while the legislation is negotiated in Congress. He has made fighting the pandemic an early focus of his new administration.

The pandemic recession has hit Americans hard. Some 16 million are now receiving some type of unemployment benefit, and an estimated 29 million don't have enough to eat. Women, minorities and low-income service workers have been disproportionately impacted, with Black and Hispanic workers facing higher jobless rates than white workers.

"We're at a precarious moment in our economy," Brian Deese, director of the White House National Economic Council, told reporters in a preview of the orders.

He said the actions are not a substitute for comprehensive legislative relief, "but they will provide a critical lifeline to millions of American families."
The new president's first agenda item will be taking steps to expand and improve delivery of stimulus checks.
In the first order, Biden will ask the Treasury Department to consider taking steps to expand and improve delivery of stimulus checks, such as establishing online tools for claiming payments. "Many Americans faced challenges receiving the first round of direct payments and as many as 8 million eligible households did not receive the payments issued in March," a White House fact sheet said.
Biden is also seeking to supply more access to school children and families who normally depend on these school focused programs. But instead of doing it unilaterally, he wiill ask the Agriculture Department to come up with new guidelines promising at least one free meal a day for families with children who once  depended on in-school lunches. Per Reuters, this could provide a family with three children more than $100 of additional support every two months.
"USDA will consider issuing new guidance that would allow states to increase SNAP emergency allotments for those who need it most. This would be the first step to ensuring that an additional 12 million people get enhanced SNAP benefits to keep nutritious food on the table," the fact sheet said.
Circling back to the massive nearly $2 trillion stimulus program, it looks like moderate Republicans who were the first to repudiate Trump are also being the first to back away from yet another "socialistic" stimulus package despite the demands from Janet Yellen for Congress to "Go Big" or go home.
As of now, it looks like the package won't pass muster in the Democrat-controlled Congress, where their slim majority in the Senate and the House could prove a sticking point, unless Mitt Romney, Lisa Murkowski and Susan Collins have their way.
Even as stocks rally to ever-higher highs, it's important to remember that millions of Americans were bitter abiuitSome 16MM are now receiving some type of unemployment benefit, and an estimated 29 million don't have enough to eat.
"We're at a precarious moment in our economy," said White House Economic Director Brian Deese, who gave reporters in a preview of the orders.
For millions of working-class Americans about to burn throug the last of their saf
Tyler Durden Fri, 01/22/2021 – 10:31
Culture of peace – Item 15 – A/75/L.54 (Continued) to consider a new draft resolution entitled "Promoting a culture of peace and tolerance to safeguard religious sites".
 United Nations Web TV – General Assembly
---
Reports of shabby treatment of National Guard troops at the U.S. Capitol were sparking bipartisan outrage among lawmakers and other officials Thursday — with Texas Gov. Greg Abbott calling for the return home of his state's Guard members.
Read more here: https://fxn.ws/366uU2u
Subscribe to Fox News! https://bit.ly/2vaBUvAS
Watch more Fox News Video: http://video.foxnews.com
Watch Fox News Channel Live: http://www.foxnewsgo.com/
FOX News Channel (FNC) is a 24-hour all-encompassing news service delivering breaking news as well as political and business news. The number one network in cable, FNC has been the most-watched television news channel for 18 consecutive years. According to a 2020 Brand Keys Consumer Loyalty Engagement Index report, FOX News is the top brand in the country for morning and evening news coverage. A 2019 Suffolk University poll named FOX News as the most trusted source for television news or commentary, while a 2019 Brand Keys Emotion Engagement Analysis survey found that FOX News was the most trusted cable news brand. A 2017 Gallup/Knight Foundation survey also found that among Americans who could name an objective news source, FOX News was the top-cited outlet. Owned by FOX Corporation, FNC is available in nearly 90 million homes and dominates the cable news landscape, routinely notching the top ten programs in the genre.
Watch full episodes of your favorite shows
The Five: http://video.foxnews.com/playlist/longform-the-five/
Special Report with Bret Baie