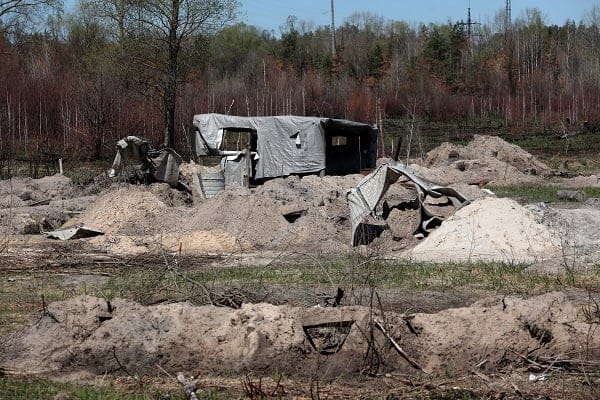 Vladimir Putin has told his military chiefs that the Russian Army needs "5 million troops" to be mobilised in "order to win" the war with NATO in Ukraine."
A document which has been seen in Moscow is entitled "Conclusions of the war with NATO in Ukraine" which also stated there "has not been such a war in the previous 80 years."
The General Staff of the Armed Forces of Ukraine highlighted that the Russian Army have "commanders" who do not have the ability to "command troops."
Oleksii Hromov, the deputy head of the Main Operative Directorate of the General Staff of the Armed Forces of Ukraine, said, "A part of this 'masterpiece' among other things focuses of the main problems of the Russian occupying forces such as the commanders' inability to command troops, low level of discipline and military training, obsolescence of armament and military equipment, commanders' inability to make decisions without obligatorily coordinating them with higher command etc.
Read more on Russia-Ukraine war:
Kyiv Moscow peace talks would cause a civil war in Ukraine as Putin attempts to 'get out of the war advantageously as possible'
"Meanwhile it is stated in every document that the Defence Forces of Ukraine have a quite high level of equipment, and commanders on all levels can make decisions in combat conditions themselves.
"It is also stated in the document that there has not been such a war in the previous 80 years, and Russia needs its army to consist of nearly five million troops in order to win."
Putin's ally and deputy speaker of the Duma, Pyotr Tolstoy, told French broadcaster BFM, that Ukraine's Western allies "will pay the price" and warned that the West should now "prepare itself for war that will last years."
In another sign that the war could escalate the Kremlin warned on Thursday saying that Kyiv government "has every opportunity" to "end the suffering" in Ukraine if they meet all their demands.
Kyiv could "end the suffering" for millions of their population by meeting the Kremlin's demands which will resolve the conflict and "bring the situation back to normal."
The Kremlin spokesperson Dmitry Peskov said, "The leadership of Ukraine has every opportunity to bring the situation back to normal, has every opportunity to resolve the situation in such a way as to fulfil the requirements of the Russian side and, accordingly, end all possible suffering among the population."
The Belarusian President Alexander Lukashenko who is a key ally of Putin also warned Kyiv on Thursday, that "a huge number of people" could "die" and that "Everything is in Ukraine's hands now."
The Belarusian dictator urged President Volodymyr Zelensky to "stop" otherwise" Ukraine will be "destroyed completely."
Lukashenko who is a close ally of Vladimir Putin told reporters on Thursday afternoon, "Everything is in Ukraine's hands now if they don't want a huge number of people to die.
"It's hard, it's complicated, it's difficult, but if they want it they have to stop… further will be the destruction of Ukraine."