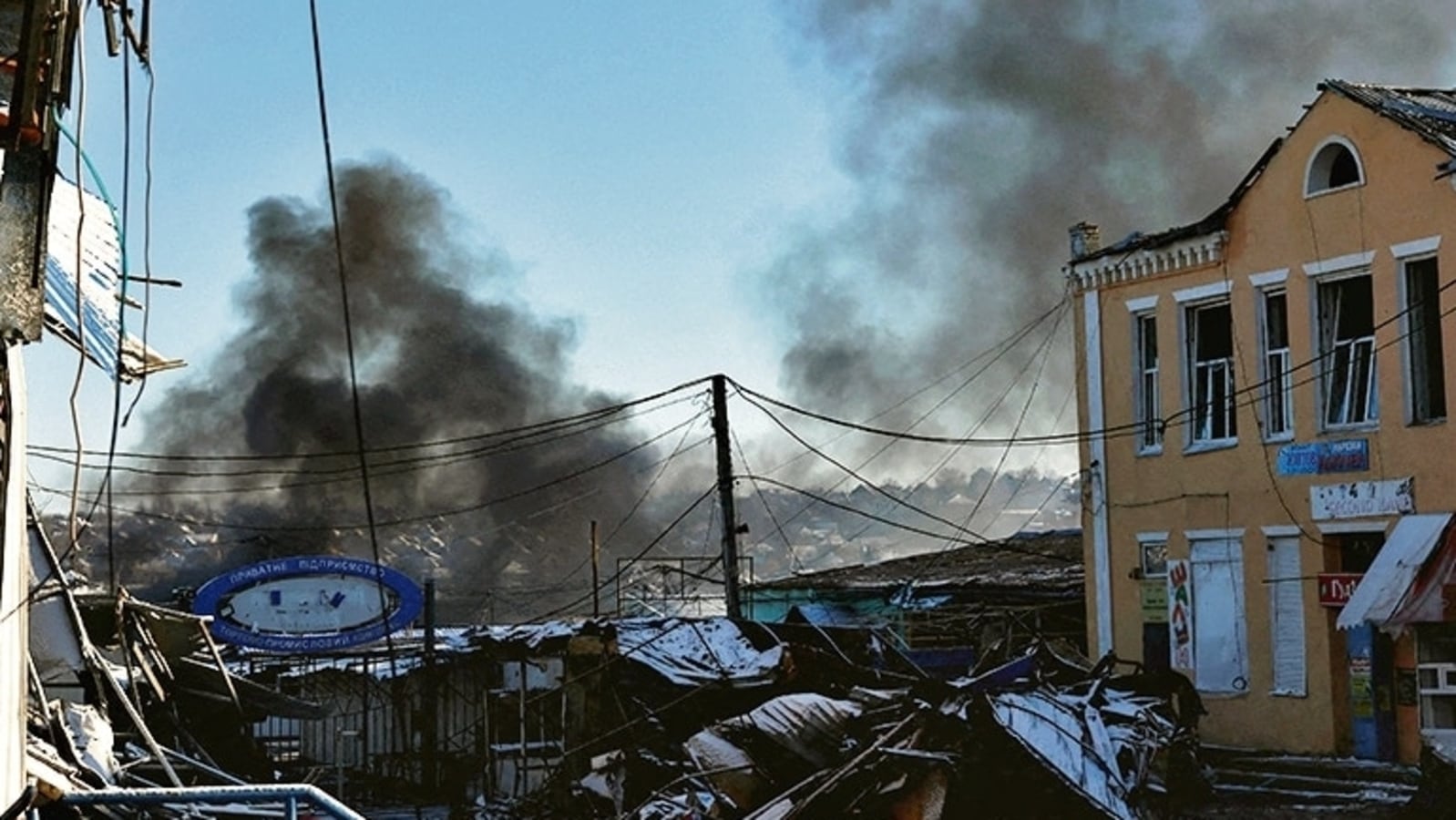 Moscow named a new commander for its invasion of Ukraine while Russian private military firm Wagner Group said its capture of the salt mining town Soledar in eastern Ukraine was complete, though the Ukrainian military said the battle was not over.
Read here: 'All's well that ends well': How Air Force helped in Russia plane's bomb scare
Russian Defence Minister Sergei Shoigu on Wednesday appointed Chief of the General Staff Valery Gerasimov as overall commander for what Moscow calls its "special military operation" in Ukraine, now in its 11th month.
The change effectively demoted General Sergei Surovikin, who was appointed only in October to lead the invasion and oversaw heavy attacks on Ukraine's energy infrastructure.
Meanwhile, Yevgeny Prigozhin, head of Wagner and a close ally of Russian President Vladimir Putin, said his forces had captured all of Soledar and killed about 500 Ukrainian soldiers after heavy fighting.
"I want to confirm the complete liberation and cleansing of the territory of Soledar," Prigozhin said in a statement.
"The whole city is littered with the corpses of Ukrainian soldiers," he said.
U.S. Defence Secretary Lloyd Austin told reporters on Wednesday he could not corroborate reports that Soledar was in Russian hands.
Donetsk governor Pavlo Kyrylenko told Ukrainian state TV that 559 civilians remain in Soledar, including 15 children, and it was impossible to evacuate them due to ongoing fighting. The town had a pre-war population of around 10,500.
Reuters was unable to independently verify the situation in Soledar.
Ukrainian President Volodymyr Zelenskiy mocked previous Wagner claims to have seized part of Soledar but made no immediate comment on the latest assertions.
"The terrorist state and its propagandists are trying to pretend that part of our town of Soledar … is some sort of a Russian possession," Zelenskiy said in a video address. "But fighting continues."
In a statement on Facebook, the Ukrainian military general staff said Russian forces were suffering heavy losses as they tried to take Soledar and sever Ukrainian supply lines.
Russia has struggled to cement control over the town, which would be Russia's most substantial gain since August after a series of retreats before Ukrainian counter-offensives in the east and south.
Ukrainian military analyst Oleh Zhdanov said the situation in Soledar was "approaching that of critical".
"The Ukrainian armed forces are holding their positions. About one half of the town is under our control. Fierce fighting is going on near the town centre," he said on YouTube.
Read here: Russia could become a failed state in 10 years, survey says. But on nuclear war…
However, Zhdanov told Ukrainian television that if Russian forces seized Soledar or nearby Bakhmut it would be more a political victory than military.
"There is more politics than war here," said Zhdanov.
"The Russians, if they take one of these towns, will try to put the event on par with capturing Berlin and they will use it for propaganda purposes as much for the outside market as for domestic consumption," he said.
"Inside Russia, it will give them the opportunity to lift the spirits of conscripts and society as a whole. To unite them all…"
Russian military 'fall guy'
A Russian Defence Ministry statement said its latest command reshuffle was meant to improve contacts between military branches and the effectiveness of the command structure.
One prominent military blogger who posts on the Telegram messaging app under the name of Rybar said Surovikin was being made the fall guy for recent Russian military debacles. Those included a Ukrainian attack on a Russian barracks that killed at least 89 Russian soldiers over New Year's.
Surovikin was ordered to head the campaign after Ukrainian offensives turned the tide of the war and drew attention to poor training, equipment and morale among Russian forces.
If pro-Russian forces succeed in taking Soledar, it would be a stepping stone in Moscow's thrust to capture Ukraine's eastern Donbas industrial region. The town would be a base to attack the nearby city of Bakhmut, a supply line hub in eastern Ukraine, where defenders have held out for months.
Before Wagner's latest statement, the Kremlin stopped short of claiming victory and acknowledged heavy casualties.
"Let's not rush, let's wait for official statements. There is a positive dynamic in progress," Kremlin spokesman Dmitry Peskov said.
Read here: Vladimir Putin ally says West trying to cleave Russia apart
A Reuters photographer who reached the outskirts of Soledar in recent days said many residents had fled the town in perishing cold. Smoke could be seen rising over the town and the incoming artillery fire was relentless, she said.
Missing Britons
Earlier, Russian state news agency RIA said Wagner had taken over Soledar's salt mines and a photograph on the militia's Telegram channel appeared to show Prigozhin and his fighters inside a mine.
Wagner separately said its forces found the body of one of two British voluntary aid workers reported missing in eastern Ukraine. It did not give the name of the dead man. A photo appeared to show passports bearing the names of Andrew Bagshaw and Christopher Parry, the two missing workers.
Russia sent tens of thousands of troops into Ukraine on Feb. 24, saying Kyiv's close ties with the West and ambitions to join NATO threatened its security. Kyiv and its allies accuse Moscow of an unprovoked war to seize territory in a neighbour it once dominated within the former Soviet Union.
SHARE THIS ARTICLE ON