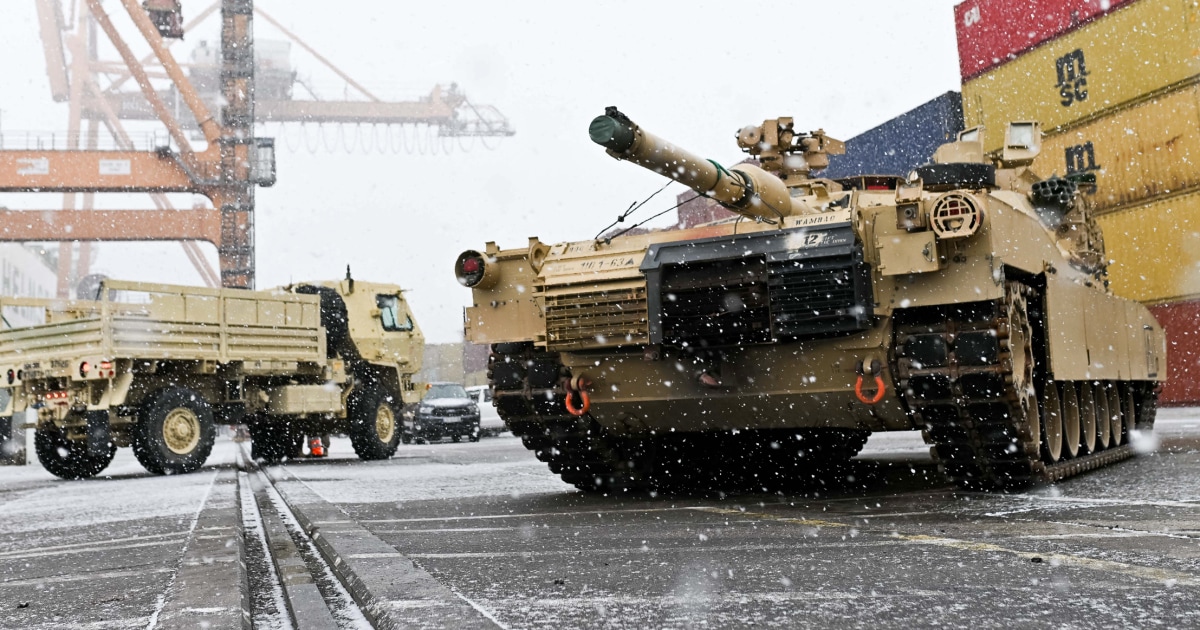 Despite German efforts to pressure the U.S. into providing Abrams tanks to Ukraine, the Pentagon's top leaders are against sending them, three U.S. officials said.
The German government signaled it may send its own Leopard 2 tanks to Ukraine if the U.S. also agrees to send Ukraine the M1 Abrams, with Chancellor Olaf Scholz insisting Germany will only act in concert with allies.
The three U.S. officials said Berlin has tried to put the U.S. on the spot about sending Abrams tanks, and there has been frustration within the Biden administration with Germany over the back and forth. The officials insist the German pressure is not going to work. 
At the same time, the officials said President Joe Biden would not pressure Germany to send the Leopard tanks to Ukraine. 
Asked Friday about sending Abrams tanks to Ukraine, Biden was noncommittal. "Ukraine is going to get all the help they need," he said. 
But both Defense Secretary Lloyd Austin and Chairman of the Joint Chiefs of Staff Gen. Mark Milley have recommended against sending M1 Abrams tanks to Ukraine, the three U.S. officials said. 
Milley and Austin have cited how long it takes to train personnel to operate the tanks and how difficult the tanks are to maintain. They also have argued they are not the right vehicles for the fight in Ukraine right now, according to the officials.
One U.S. official said Austin has argued the training to operate and maintain the tanks would take months, and even though the Ukrainians have proven adept at learning many new platforms, he continues to resist sending the Abrams.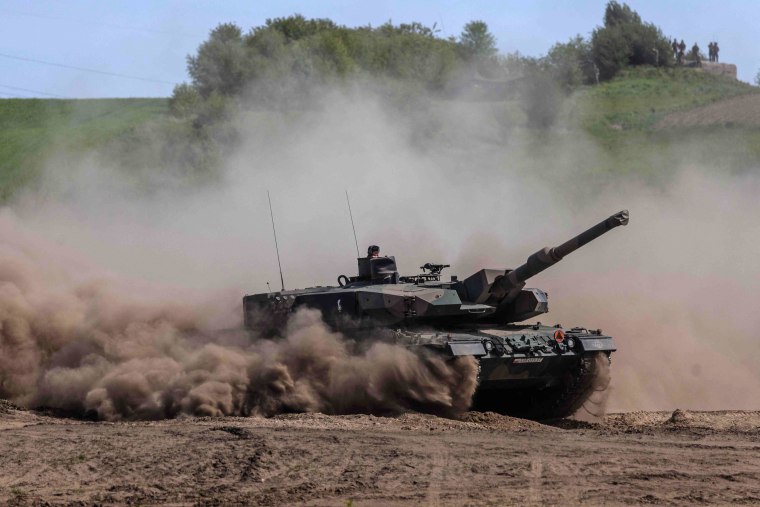 A Polish Leopard tank takes part in a military exercise in Nowogard, Poland, on May 19, 2022.
Wojtek Radwanski / AFP – Getty Images file
Two U.S. officials also noted that Ukraine already has hundreds of tanks at its disposal and over the past year has captured hundreds of Russian tanks on the battlefield and added those to its inventory.
On Friday, Pentagon press secretary Brig. Gen. Patrick Ryder declined to comment on Austin and Milley's views on the matter, saying in a statement that their comments at Ramstein Air Base in Germany about U.S. tanks "speak for themselves. We're not going to have anything additional to provide."
Austin hosted the Ukraine Contact Group at Ramstein, a meeting of nearly 50 nations to discuss aid and contributions to Ukraine.
During public remarks Friday, Austin appeared to allude to what U.S. officials said his position has been privately — that he does not see tanks as critical to the current fight in Ukraine and that they can't be brought on line right away.
Austin deflected a question about tanks by saying, "What we're really focused on is making sure that Ukraine has the capability that it needs to be successful right now."
"We have a window of opportunity here. You know, between now and the spring when I, you know, whenever they commence their operation, their counteroffensive. And that's not a long time. And we have to pull together the right capabilities."
At the end of the meetings Friday, the Germans did not announce they would send Leopard tanks to Ukraine.
Ukrainian military leaders have said they need 300 tanks to break through Russian defenses.
"In order for us to defeat the Russian Federation, we absolutely need tanks," said Oleksiy Danilov, the secretary of the National Security and Defense Council of Ukraine. "The fact is that the question of which weapon is needed is determined by the military. It is the military that insists that tanks and heavy artillery are crucial today."
Danilov said that Ukrainian troops would learn to "master" the use of new tanks "in a month, because we are in a state of war. …  [W]e learn very quickly on any equipment that helps us destroy the enemy."
"As soon as the decision is made and the tanks are provided, we will conduct training very quickly and, believe me, they will be used with the incredible power that this or that weapon has. We have already proved it many times." 
Mykhailo Podolyak, a senior adviser to Ukrainian President Volodymyr Zelenskiy urged Kyiv's allies to "think faster" about stepping up their military support on Saturday.
"You'll help Ukraine with the necessary weapons anyway and realize that there is no other option to end the war except the defeat of Russia," wrote on Twitter. "But today's indecision is killing more of our people. Every day of delay is the death of Ukrainians. Think faster."
Strykers, Bradleys, MRAPs
Others in the U.S. government besides Milley and Austin also appear dug in on not sending the Abrams tanks.
A spokesperson for the National Security Council echoed some of the concerns U.S. officials have been stressing privately, saying the Abrams tanks are "very expensive to operate, very expensive to fuel, very expensive to maintain, and [require] a lot of training."
Instead of Abrams tanks, Milley and Austin have advocated to send armored vehicles, including Strykers, Bradleys, MRAPs and others. "These provide strategic flexibility while being able to move troops around the battlefield," the U.S. official said, and the armor provides protection from Russian attacks.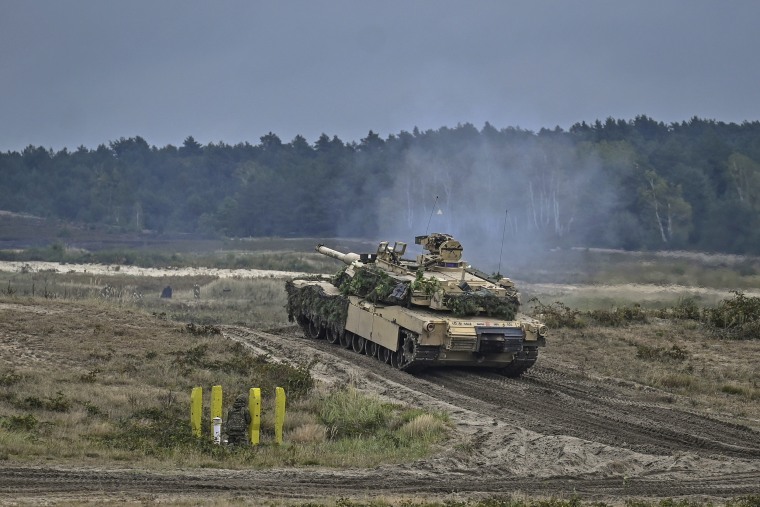 A U.S. Abrams tank at the training grounds in Nowa Deba, Poland, on Sept. 21, 2022.
Artur Widak / AP file
U.S. officials said opposition within the Biden administration to sending Abrams tanks to Ukraine is not due to concerns Russia would see the move as escalatory.
Boris Pistorius, the new German defense minister, similarly denied that Germany's hesitancy is based on concerns about Russian retaliation. He said Germany is still weighing its decision, is ready to move quickly if there is an agreement with allies and would make a decision "as soon as possible."
"We don't fear anything," Pistorius said. "We have just a responsibility for our population in Germany and in Europe and we have to balance all the pros and cons before we decide things like that." 
He added, "And I'm very sure that there will be a decision in a short time but I don't know when and I don't know how the decision will look."
Last week, the British government announced it would provide Challenger 2 tanks in the coming weeks, but the Germans still have resisted.