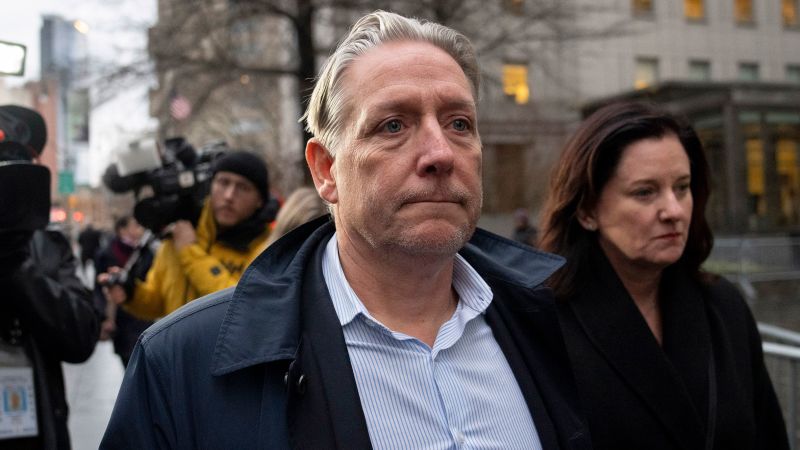 The insular world of FBI counterintelligence agents was rocked last month when one of their own, Charles F. McGonigal, formerly the FBI's top counterintelligence official in New York, was indicted for allegedly selling access to Russian and Albanian officials in exchange for hundreds of thousands of dollars in cash.
After retiring from the FBI in 2018, McGonigal is accused of illegally working for one of Russia's most notorious oligarchs, Oleg Deripaska, who was linked to the FBI's Russia probe thanks to his ties to Donald Trump's former campaign manager Paul Manafort.
Former FBI officials who worked with McGonigal told CNN they were stunned, disappointed, and "pissed off" when they learned the news. One called the charges, "horrifying."
"This guy was unbelievably respected and really seen as a career counterintelligence expert," according to a former senior FBI official who worked with McGonigal. "He was one of these rockstars in [counterintelligence] who, when hard jobs, when very sensitive assignments came up, he was on the shortlist of people that you would look to and say, 'Hey, where's Charlie, what's he doing for the next six months?'"
Speculation has swirled around the potential damage McGonigal may have caused, including whether he exposed any sensitive information that could damage US national security. As a senior counterintelligence official, McGonigal had access to some of the most sensitive information in the FBI's possession, as well as the CIA's and other agencies' information.
He would have also been privy to FBI collection techniques, operations against Russian diplomats in the US, and more, former officials familiar with his work say.
There are also questions over McGonigal's proximity to several high-profile investigations, including those involving Hillary Clinton and associates of Donald Trump. McGonigal helped oversee parts of both probes.
That's all sparked a strong interest in McGonigal, including most recently from Congress.
Sen. Dick Durbin of Illinois, the top Democrat on the Senate Judiciary Committee, is demanding a briefing on "the true extent to which Mr. McGonigal's alleged misconduct may have impacted these highly sensitive matters, including whether he compromised sensitive sources, methods, and analysis" and "whether his alleged misconduct materially impacted the outcome of any investigations or further compromised our national security."
House Judiciary Republicans said Thursday that they have launched their own investigation.
Peter Lapp, a former FBI counterintelligence agent who once worked for McGonigal, told CNN the McGonigal case is, "an absolute embarrassment" to the FBI.
Sources briefed on the matter tell CNN that, at least for now, FBI officials view McGonigal not as a spy, but more as a corrupt former official looking to make a buck on his way out the door. Top FBI officials reject the idea of McGonigal's arrest as an embarrassment, instead touting it as a sign the bureau is willing to go after its own who are accused of breaking the law.
FBI Director Christopher Wray, whose tenure began just before McGonigal retired, bristled at a question about the case at an unrelated news conference last week.
"There are some important things that are getting lost here in respect to that case," Wray said. "It's the FBI who initiated this investigation, it's the FBI and our agents that painstakingly and methodically put the case together against him, and it's the FBI that arrested him….I think [what] the charges in that case demonstrate is the FBI's willingness as an organization to shine a bright light on conduct that is totally unacceptable, including when it happens from one of our own people, and to hold those people accountable."
After conducting assessments of the possible damage done to intelligence information, as well as sources and methods that McGonigal possessed, the FBI came to view him as a case of simple corruption, according to people briefed on the matter.
The bureau does not view McGonigal as a case of espionage in the style of Robert Hanssen, the most damaging spy in FBI history.
Hanssen spied for Russia for years while holding high-level counterintelligence positions, doing dead drops to provide Russia with information that helped identify US spies and espionage techniques.
There is no suggestion in the public indictment, either, that McGonigal committed espionage. Current and former FBI officials familiar with McGonigal and his work say they believe McGonigal – a former accountant – simply got "greedy."
Former officials also dismiss the series of theories that have proliferated on social media about McGonigal's role in the FBI's Russia investigation, in particular those related to his work for Deripaska.
McGonigal headed the cyber section of the FBI's counterintelligence division in 2016, when the bureau was closely tracking efforts by Russian intelligence to influence the presidential election. But former officials say McGonigal didn't have final decision-making authority in the broader investigation, which ultimately encompassed activities far beyond Russia's cyber activities.
McGonigal was promoted to handle some of the most sensitive counterintelligence cases in the FBI's files, including a high-stakes investigation into a spate of CIA assets that had been killed or otherwise lost in China. He was seen as competent, incredibly intelligent and a hard worker.
But by 2017, exactly a year after he had been appointed the head of the FBI's counterintelligence division in New York, McGonigal allegedly sat in a parked car outside of a restaurant in the city and accepted $80,000 in cash from a person who had previously worked with Albanian intelligence.
It is one of the more lurid details from the two indictments against McGonigal, filed last month in New York and Washington, that include charges of money laundering, conspiracy to violate US sanctions against a Russian oligarch and lying to the FBI.
For almost two years before his retirement in 2018, the Justice Department claims McGonigal effectively sold his access to senior US officials, attempting to broker meetings for individuals from Bosnia and Herzegovina on behalf of the person formerly linked with Albanian intelligence.
McGonigal allegedly accepted at least $225,000 for that assistance, all while lying to the FBI about his activities, including multiple trips to Europe paid for by his Albanian contact and taken without informing the FBI, as well as a secretive relationship he kept with the Prime Minister of Albania.
After he retired in 2018, according to the New York indictment, McGonigal violated US sanctions by receiving illegal payments to help Deripaska attempt to get US sanctions against him removed and investigate a political rival in Russia.
For some current and former officials, McGonigal's conduct while he was still working at the bureau is far more "horrifying," as the former senior official put it, than the charges against him related to Deripaska that took place after he had retired.
Particularly troubling, this person said, is the allegation that McGonigal caused the FBI to open a criminal investigation of a US citizen in which the person formerly associated with Albanian intelligence was expected to act as a human source – but failed to disclose his own financial relationship with that person to the bureau.
"This is incredibly serious, so obviously wrong – if he did these things they allege, it's not like a gray area," said the former senior FBI official.
It's not clear exactly what tipped the FBI off that one of its star counterintelligence agents may have been crossing a line.
Behind the scenes, the FBI has been investigating McGonigal for years, people briefed on the matter said, including surveilling him for months at a time.
Some who worked closely with McGonigal say there was little hint at the time that anything was amiss. Peter Lapp, who worked for McGonigal on a China-related espionage case and was subsequently dismissed by him, recalled to CNN that McGonigal had a temper and "screamed" at subordinates so frequently the office had a nickname for the dressings-down: "the McGonigal Hotwash."
"He would scream at you so much that you would get your second shower of the day," said Lapp
Asked if he ever had reason to suspect McGonigal's conduct, Lapp was unequivocal: "Even in retrospect, no. Just because you're an asshole boss doesn't mean that you're going to be corrupt."
Another former senior official was equally blunt when asked if they ever had suspicions about McGonigal being corrupt. "Absolutely none ever."